BlackPod Nanotech
Until now, BlackPod TC (Tungsten Carbide) were our best footer. But now we have improved them using the magic of nanotechnology. These new footers use both Graphene and Carbon Nanotubes in their construction, improving stiffness in vital components. The result is a footer that outperforms our best-selling Blackpod-TC by a decent margin.
Check out this new review from Christiaan Punter from HiFi Advice : "Excellent Universally Applicalble Footers"
Graphene is used in the top and bottom halves of the Blackpod to improve their mechanical properties. Carbon Nanotubes are used internally and around the ball interface to improve stiffness and vibration transfer.
BlackPod Nanotech are slightly larger than BlackPod TC footers - 58mm diameter x 30mm high (TC are 55mm diameter)
BlackPod footers are designed to couple firmly in the vertical (up-down) direction, while allowing a small amount of damped movement in the other two horizontal planes. They are also designed to be as non-resonant as possible, and incorporate mechanical diodes embedded inside. The result is a footer that outperforms simple cones and such by a wide margin.
Why only one Tungsten Carbide ball?
Well primarily because it sounds better that way. Having one ball different to the other two sounds better than all three balls the same.
Like all Mad Scientist products, Blackpod Nanotech are hand made in New Zealand, and come with 30-day money-back guarantee.. For these footers there are 13 'ingredients' if you don't count labor, soap and water..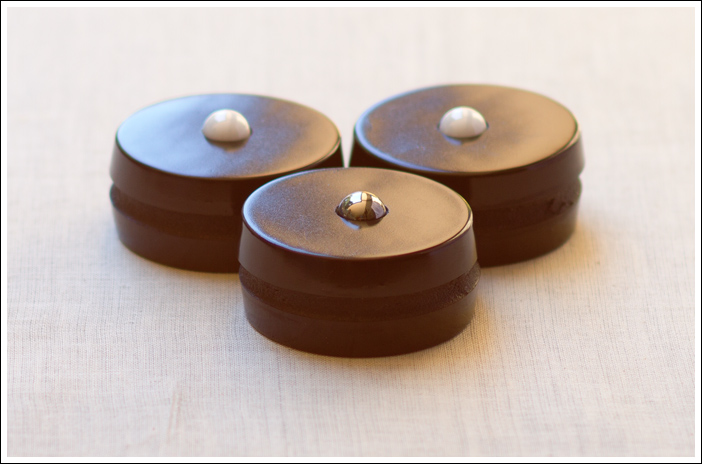 BlackPod Nanotech footers can support large and heavy loads up to 150kg. They are available in sets of 3 and 4. Only color is "all black"
Prices