Black Magic Speaker Cables

From review in HiFi Advice (click to read full review)
I am much impressed with these cables and if you ask me, the Mad Scientist has really outdone himself. Both the 2-Core and 4-Core versions provide a sound that seems to have been lost in so many other brands. These days, cables seem to be all about being more and more polished and refined, to the point that the musical message gets glossed over and the raw energy is lost. I am surprised and amazed to find what is in many ways the opposite of this trend with the Black Magic cables.
I have heard plenty of very accurate cables that managed to kill the soul of the music in the process. The Black Magic cables may be highly accurate and superbly neutral, but they do not sound damped or over-controlled in any way. Rather, they fully conduce the full extent of the lyrical and "singing" qualities of every recording and they have blown me away with the immensely solid, visceral, energetic, toe-tapping, dynamic, and joyful presentation
---
Black Magic Speaker Cables are a completely new design. We've actually been designing speaker cables for years but none have been either good enough or practical enough to make into a product. Until now..
This new design came about after a brainstorming session that asked the question "Why doesn't ordinary speaker cable sound good" (by this I mean the kind of stuff you get for a couple dollars a meter from the local electronics shop). After all there are people who will tell you that as long as the basic parameters (e.g. resistance) are OK then it can't possibly make any difference. So why do speaker cables sound different?
This produced a long list of possible answers, which we set about testing. For example, one idea was that the speaker and cable can act as a giant antenna and send that RF back into the amplifier, so this lead to idea of a "bad antenna" design to minimize pickup (and also transmission).
Another design concept was to create multiple symmetries. A simple example of a symmetry is a twisted pair - this rejects noise due to it's symmetrical construction. These cables go well beyond this, creating a whole bunch of symmetries.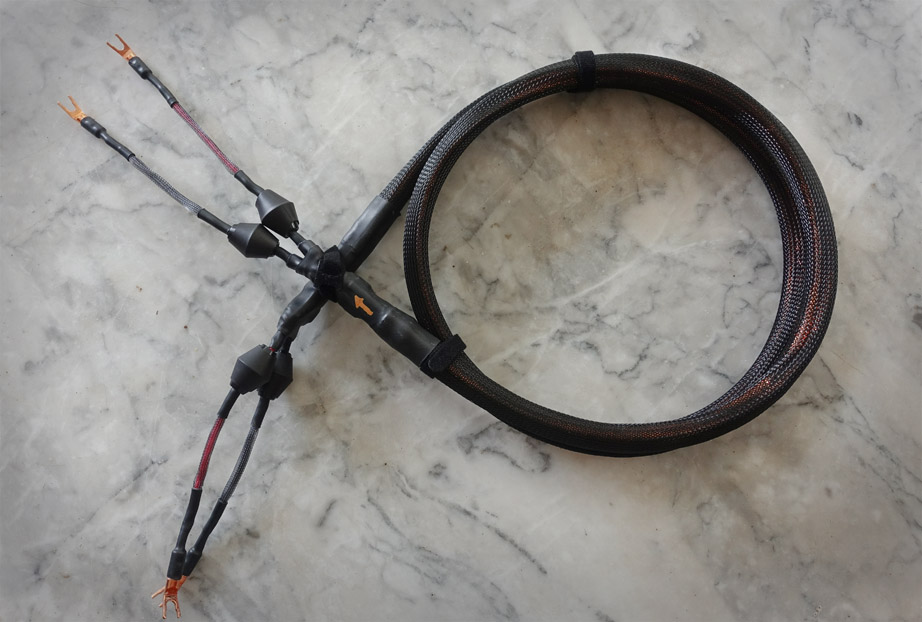 Four-core Black Magic Speaker cable.
How do they sound?
When I tried the first prototype I knew I had something special. The sound was clearer, more powerful than normal, but also more delicate, with big soundstage and large dynamic range. Also less confused with the different strands of the music keeping separate and not blurred together.
The final version has improved from there. I find that they are now very balanced, hugely musical and entertaining - they make you want to revisit your whole library.
Two-core and Four-core.
Black Magic Speaker Cables come in two types : Two-core and Four-core.
Each core is designed to embody as many symmetries as possible, and is also shielded with three separate screens that are wired in a very specific way to achieve our design goals. Each core is hand-built and individually tested before being made into a complete cable.
Putting two cores together lets us create more symmetries. And with four we can get even more.
Both versions of the cable sound similar. The four-core has more bass control, which is not surprising. But also it has an extra helping of delicacy.
Two-core cables are ideal for lower power systems, say up to 100W. Four-core are good for any systems.
Bi-Wire and Bi-Amp
A good way to do this is to use two-core for the higher frequencies and four-core for the lower registers. I use this technique on my own systems. In the past I've not found bi-wiring to make a lot of difference, but when I tried this technique using a 2-core/4-core setup on Elac Adante I found the difference to be impressive.
Speaker Kegs
At each end of the cable you can see a pair of "speaker kegs". These are similar to the kegs we use on our powercords. However they are quite different - the power cords kegs are designed to pass 50/60Hz but the speaker kegs must pass the whole audio band. So these kegs are reformulated and tuned to this application.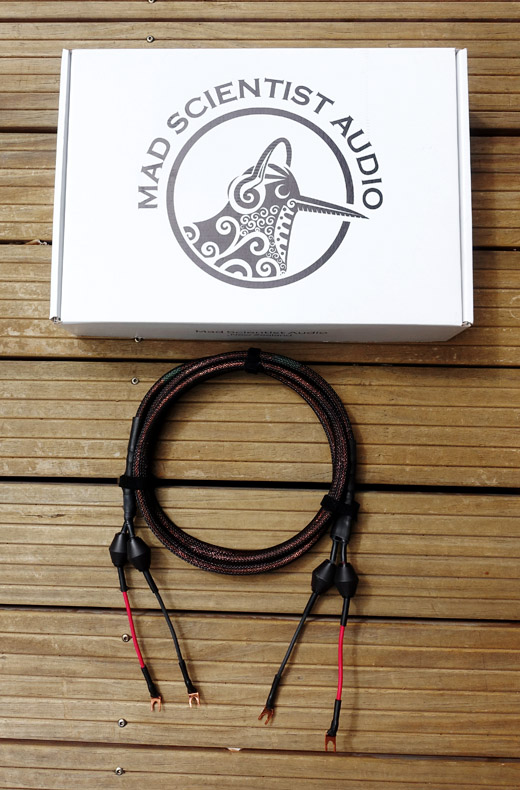 Two-core Black Magic Speaker cable.

O
rdering
You can order with either spades or banana plugs. Both are copper. Please specify what type of connection you like on each end (so you can have spades on one end, bananas on the other, but you need to specify which end is the amplifier end as the cables are directional).
As these cables are made-to-order it can take 7-10 days to build and test a set of cables. This is because it takes around 12 hours to build an average pair. When you order we will give you an estimate of how long they will take to build.
Which brings me to the price. These cables are expensive. Sure they use the best materials for the job but it's the fact they are built from the ground up means they can't be cheap. So my apologies for the prices, but I believe they are worth it for the sheer musicality they bring.
Prices
Example prices. Visit shop for complete list of lengths and options : Click Here
Black Magic Speaker Cable 2-core


1 meter w

ith spades

$990

Black Magic Speaker Cable 2-core


2

meter

w

ith spades

$1390

Black Magic Speaker Cable 4-core


1.5

meter

w

ith spades

$2190

Black Magic Speaker Cable 4-core


2.5

meter

w

ith spades

$2990

Black Magic Speaker Cable BiWire


2

meter with spades

$3890
All prices in US$, for stereo pair. Available in black only.


.