Black Magic USB Cable
Named after the Kiwi Yacht that won the 1995 Americas Cup, our Black Magic USB cable is ready to take on the world. In a Curious twist of fate, Australia took first honors in the Cup, but have since been eclipsed by New Zealand, leaving Australia in their dust.
Black Magic USB is the result of outside-the-box innovative thinking. Using techniques that I'd wager no other USB cable on the market uses, it seeks to answer the question "Why does USB audio normally sound so terrible, and what can we do about it"
The USB vs Coax Story
Before USB there was Coaxial (SPDIF) digital. This suffers from the technical problem that the clock is recovered from the data-stream, a technique that produces more jitter than is desirable. Then came asynchronous USB, where the DAC controls the data rate, so a high quality, low jitter clock can be used in the DAC. This should sound really good.
But it didn't.
In fact it sounded worse than using a Coaxial cable connection. Some blamed noise on the 5V line. Others blamed noise on the ground line. Various techniques were used, in the form of add-on boxes and dongles; Galvanic Isolation, regeneration, noise filtering. These often gave some improvement but at a high cost; they also often left their own footprints on the music.
But now, with Black Magic, USB sounds as good as it should do - which is a whole lot better than any SPDIF connection.
We found the real problem is not noise on the ground or 5V lines - it's noise that piggy-backs on the data itself. Black Magic uses innovative techniques to reduce and absorb this noise, as well as special measures to prevent it's radiation from the cable.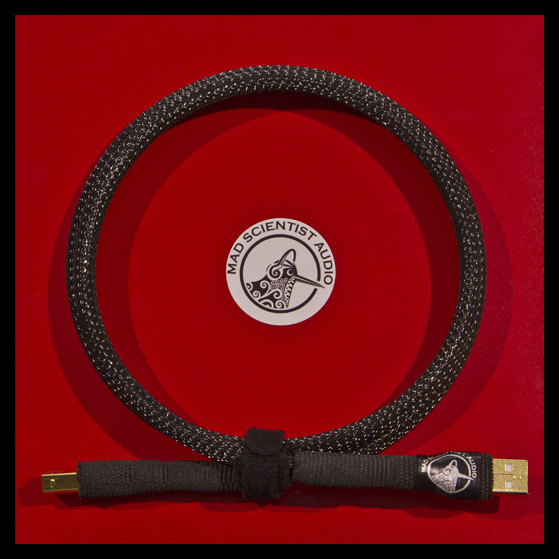 How is

Black Magic

Different?
USB cables are normally used between a music source like a computer or streamer, and a DAC. The two devices are in two-way communication - this is the nature of USB. What's more, each end takes turns to use the same connection channel, so the same wires are used in both directions.
Normal USB cables are symmetrical - the path from source to DAC is the same as the path from DAC to source. But we realized that for audio, the communication from the source to the DAC was far more important. So Black Magic uses an asymmetrical data path with the aim of providing the most noise-free data signal to the DAC.
Many "audiophile" USB cables use the exact same approach that was used for analog cables - high quality wire, maybe OCC or silver, perhaps even made in house.
We found we get the best results with cable that is designed for much higher data rates than used in USB Audio. This allows Black Magic to "burn" some of the design margin manipulating the data signal to reduce noise, giving your DAC a much easier time making music.
Unlike the Heretical USB, Black Magic is available in a range of lengths from 0.8 meters upwards. Each length is 'tuned' so the sound quality is the same regardless of length.
Another thing that turns out to be critical is the screening. Most USB cables use a simple screening technique; Black Magic uses four different screens connected in a novel way; this prevents the cable being turned into an aerial, and also avoids pickup from other sources.
How Does It Sound?
One of the things that surprised me about this cable was the improved lyric intelligibility - I was hearing words on songs I'd known for years, even decades. Words I'd previously mis-heard, or incompletely heard. Also there was an ease about it, so no effort was needed, no straining to hear. Just like when somebody speaks to you in the same room.
This is not the only good thing to report about the sound of the Black Magic. But rather than listening to me, here's some words from two people who have tried Black Magic (the first was already using our Heretical USB cable):
I put it in my computer room HT system to settle in and it was sounding very good with very extended HF that had lots of air and delicacy that floated on the very wide and deep soundstage...hearing words and small tonal nuances that were previously hidden in the performance.

The mid band is lush and intoxicating with its natural presentation. Both vocals and instruments are portrayed with vibrant tonal accuracy that kept me searching my music files for more sonic treasures...

Mid bass and bass are very exciting with massive dynamic energy and punch and are proportional to the mid and HF... It is wonderful to have a cable that reveals so much of the original recording session.
Lorenna McKennitt Spanish Guitars and Night Plazas never more gorgeous. Gorgeous tone on the guitars, plucked chords ring with magic and air, more than I have ever heard. The body of the guitar, the string resonance and each harmonic clear as a bell. Castanets were a bit hidden in the mix and are now quite obvious. You can hear her breathe as she starts and stops the lyrics Almost literally feels like your breathing her air as she sings. And there is that sense of timing and pace that has you pulled into the song tapping your feet. Her voice on the highest notes can be a hint strident and occasionally is on iTunes in my previous setup. Not here. More detail but more tone and harmonic, sweet flowing, more ambient and more organically right. Beautiful, absolutely beautiful. Have to relisten to all my favorite females!

This cable is ridiculous, really truly, madley, deeply!The Black Magic is transparent like no cable I have previously heard

I want to keep listening but have to get some sleep...work 12 hour shifts at night
Risk-Free Trial
As with all our products, you can try Black Magic for 30 days and if you don't think it's the best USB cable you've ever heard we will give you a full refund.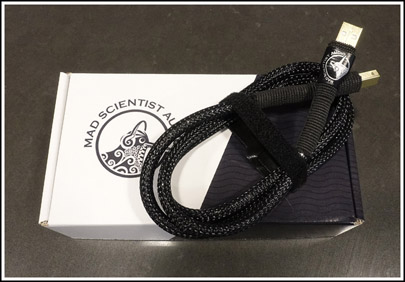 Prices and Options
Black Magic is available in standard 0.8, 1.0, 1.2 and 2.0 meter lengths. Also custom lengths up to 4 meters. Only one color : Black.