Mad Scientist Power Cords
Power Cords? Yes, I know; Power Cords should not make any difference. The power has come through miles of low grade wire, blah blah. But the fact of the matter is that they really do make a difference, and a pretty big one at that. Experimental data trumps any theory, especially banal ones that rely on 'common sense'. In fact there's more than just 'current down a wire' going n here. For a start there's the rather strange load that a power amp typically presents. Somehow related to the music, but also not quite. Then there's the fields - magnetic, electric - that both radiate into and out from the cord. But also you need to consider the effect that one component has on another, from the large current spikes that power amps draw, to the RF noise that digital gear makes.
Give one a try for 30 days and return it (if you can) for a refund.
Our new power cords are now in their second generation and has performance that seems astonishing to me at least. I feel sure that anyone trying a Nitro power cords will stop thinking that power cords make no difference. All our power cords are hand made, with the cord itself constructed from cotton and PTFE insulation, with copper foil screening, hand wound. They may not look great but they sound fantastic.
Nitro NANO and FIRST NANO power cords use the new NANO versions of Black Discus.
NOTE: All our power cords are now only available in BLACK. They sound the same but look much better.
Nitro NANO are our best power cord, a development of our popular NEO power cord. Amazing sound for a fraction of the price of the big boys.





Click for more info

The First NANO power cord uses the same wire and build techniques as Nitro Nano, but uses a simplified "Kegs" filter.



Click for more info

The Basic power cord is out entry level power cord, using the same construction techniques as Nitro and First+, but without any filtering.



Click for more info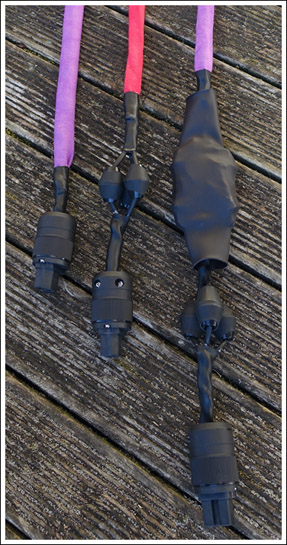 The three types of power cord - Basic, First+ and Nitro.
Please note that our power cords are not available in New Zealand.
Click Here to visit our online shop