BlackPod High Performance Audio Footers
NOTE : Our footers are currently available only by special order, please contact us for details.
Our BlackPod range of footers give high performance on a par with expensive products at a low price. If you've not tried high performance footers then you are in for a treat. The improvement they bring is much more than you'd expect, even when used with components that should not need them, like power supplies.

---
We've added the new, improved BlackPod Nanotech to the BlackPod family...Click for more details...
---
Here is what a well-regarded reviewer wrote to me recently:
One of my friends has lent me his Mad Scientist TC footers while he was away. After my friend got his footers back yesterday, I turned on my good ol' stereo and was in a state of shock. The sound was bad, really bad. I thought something might be broken (speakers?) Today the postman came with your package, so now the sound is back where it belongs, in front of me and my speakers, and no where else.
There are many theories as to how to control vibration in audio systems, along with a plethora of footers, stands, supports and so on. Two themes that come up regularly are 'rigid pointy things' like cones and spikes, and 'squashy rubbery things' like damping pads, etc. Both of these suffer big problems.
Firstly, resonances. Just about any stiff, pointy device (cone or spike) is going to have a slew of resonances of varying Q factors - in other words they 'ring like a bell', usually at several different frequencies, and this will pass through to the system. The effect can be overly etched treble with some notes being particularly screechy.
Second problem is 'delayed energy release' - anything that is springy or rubbery is going to store energy and release it at a later time, smearing the music. Often using soft footers results in muddy, soft music that lacks bite.
Combining a spike/cone device with damping does not solve anything, and just gives you both problems. This is why damping and isolation efforts are often akin to a crap shoot.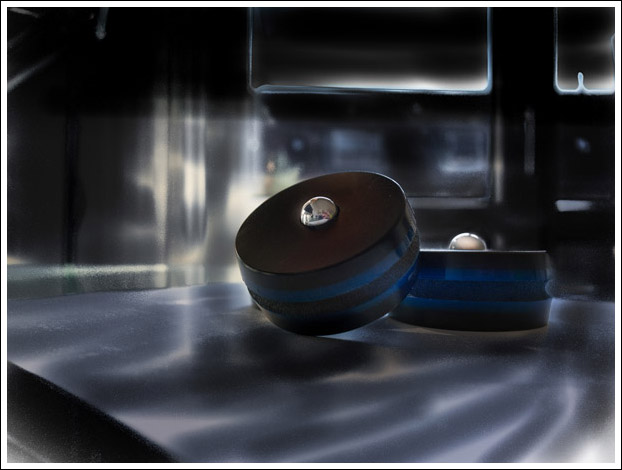 BlackPods take a different approach; firstly they provide a secure path to ground in the vertical direction, so that vibrations generated or picked up by the component are channeled to earth. The structure has been designed to be as non-resonant as possible, using lossy composites and lead. BlackPods also use Constrained Layer Damping to attack vibrations that occur in the horizontal direction, using a lossy elastomer that converts movement to heat.
But BlackPods don't just work 'in theory'..they are the result of extensive listening tests, to tune the materials and construction. The first thing you'll notice moving from cheap footers is that the music is somehow bigger and more expansive. The soundstage is wider and deeper, with a real sense of the acoustic of the venue, rather than disconnected echoes just giving you some hints. And dynamics are more powerful, but at the same time, the powerful parts of the music interfere less with the more subtle parts. After prolonged listening you'll find increased involvement and desire to listen to your old music again. Always a good sign.
BlackPods Nanotech, TC and Ceramic are ~55mm diameter, and ~31mm high. They weigh around 140g (about 5oz) each depending on the ball used.
BlackPod Nanotech - Our best footers, built using Graphene and Carbon Nanotubes along with a mixture of Tungsten Carbide and Zirconia Ceramic balls, they give the crispest and most dynamic portrayal.

Click for more info
BlackPod Tungsten Carbide (TC) - use a mixture of Tungsten Carbide and Zirconia Ceramic balls. They improve just about any component you put them under.

Click for more info