Ground-Breaking

USB Cable
We named this cable Ground Breaking USB for a very specific reason - it breaks the ground connection between the source (e.g. computer) and destination (e.g. DAC).
Here is some background information about USB, grounds, etc, so you can see why this is important:
Normal USB uses 4 wires; two for data plus ground (0V) and power (+5V). Most audiophile DACs do not need the power line, so this is often omitted (as in our own Type 2 Heretical USB cable).
However, it's not possible to omit the ground (0V) line. If you try this, the cable will not work in most cases. The reason is that the ground line is needed for the initial handshake when the cable is plugged in. But the ground line is not needed after this, for normal data communication.
Not having the ground line connected is a big plus. There will inevitably be some leakage current flowing, overlaid with high frequency noise. The improvement in audio quality is easily discernable. (Previously I used an Intona USB Isolator. This provides electrical isolation so you get a similar effect. However, the Ground Breaking USB cable sounds better than using the Intona with a pair of Heretical USB cables, and it's much much cheaper - only one cable needed!)
How the Ground-Breaking USB Cable works
We start with our great-sounding Heretical-USB cable, and add a switch at each end that connects or breaks the ground line. To use, you start with both ends switched in ground-connected position. Plug the cable in and now switch both switches to ground-broken position.
You only need to repeat this procedure if you unplug the cable or power cycle (or reboot) the computer or DAC.
Why a switch and both ends?
If you only had a switch at one end, the disconnected, floating ground wire could act as an antenna, potentially injecting RF noise into the end that was still connected.
Can I use this cable with my XYZ DAC?
You need a DAC that does not need the USB power to be connected.. If a DAC does need power, it also needs the ground, so you cannot disconnect this.
Click here to see how to test whether your DAC needs USB power.
The Ground-Breaking USB cable makes regular USB cables sound like what they are : printer cables..And as with all our products, these cables are hand-made in New Zealand, and come with 30-day money-back guarantee.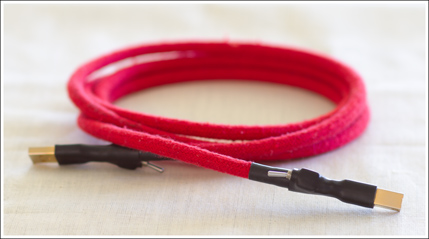 Available in Red, Purple (and Unbleached White)
Why 2 meters long?
A strange thing happened during late testing of the Heretical USB - it became apparent that the 2 meter length sounded better than other lengths. This is not magic; it's due to the capacitance of the cable. 3 meters sounds better than 1 meter but not as good as 2 meters. So we decided to make 2 meters the minimum length. We can also do longer lengths up to 5 meters.
Prices and Options
Ground-Breaking USB cable normal length is 2 meters, with custom length up to 5 meters.
Ground-Breaking USB Cable




2 meters

$2

99

Ground-Breaking USB Cable




length up to 5

meters

$34

9

All prices in US$.