So, they don't look much. But looks can be deceiving. We are not asking you to take our word for it - we will send you a free sample, yours to keep with absolutely no obligation. Click here for details
We are absolutely sure that these magical devices work. How can we be so sure? Because we blind test them, both against dummy devices, and against earlier versions (to be sure that the newer one is actually an improvement). We recommend that you try blind testing them as well. This page explains how.
The Origins of BlackDiscus
I've been playing around with audio for the last 40 years. I'm an engineer (electronic and software) by trade, and I have designed and built various audio components for a long time (amps, speakers, DACs, even a turntable). I was playing around with something, not related to audio particularly, and I wondered whether this item might have an effect on my system, say if I put it on top of the mains transformer, etc.
I put the item on my coffee table and proceeded to select some music and play "without" the item in place. However, much to my surprise, I could already hear a difference. Astonished I removed the item from the room and the effect vanished. I repeated this many times over the next few weeks, always with the same result - during the day when I thought about it, I decided it could not work. But when I tried it, I changed my mind. It always worked. I managed to determine that the item could be stopped by putting it in a metal box or tin. A big clue.
After some weeks of casual experimentation I decided to get serious and blind test the effect. I am only too aware of the tricks your mind can play on you when it comes to hearing and aural memory. I found that I could easily pick the effect from the dummy in blind tests. So this lead to months of experimentation and development.
Looking back I wonder that I managed to hear the original effect, so small it is in comparison to the current devices.
Using BlackDiscus Devices
BlackDiscus devices are attached to strategic locations on your audio system. We use Blu-Tack, but you can use tape, Velcro, cable ties or anything else that does the job.
To get the best results, some experimentation is often needed. But here are some good places to start, the result of many hours of listening (along with recommended size):
Headphones and Headphone Amplifiers
- On the jack plug of the headphones (CanOpener size)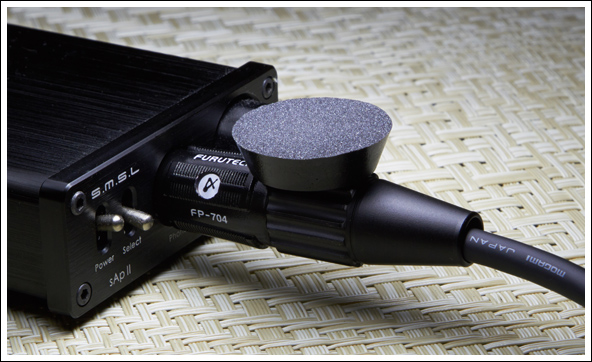 - In the center of the headband of the headphones (CanOpener size)
- If you use a headphone amplifier that uses chips (e.g. opamp, power amp on chip) put one on top of the chip(s). (Mini size)
---
Power Amplifiers
- put one on each + speaker output. This can either be on the binding post if there is room, or attach to the speaker wire. (CupCake size)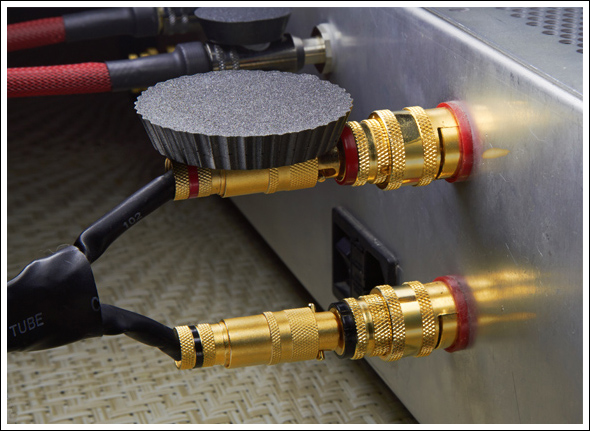 - put one on top of the power transformer (CupCake size)
---
Preamplifiers
- put one on top of the power transformer (CanOpener size)
- put one on top of each signal input and/or output (Mini or CanOpener sizes). You can put them on input and output interconnections throughout the system.
---
Digital Source
If you have a Digital Source (e.g. CD transport, PC, Squeezebox, etc.) that feeds into a separate DAC:
- On the Digital source component, put one on the digital output cable (e.g. Coax, USB). Do not put on an optical cable as it has no effect. (CanOpener size)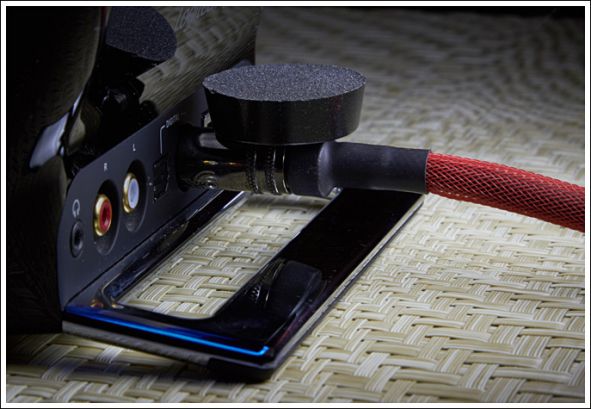 If your Digital Source component uses an external power supply, place one on the power wire just before it enters the component (Mini size)
- On the DAC, place one on top of the power transformer (CanOpener size)
If you have an all-in-one digital source like a CD player:
- place one on the mains inlet, just where it enters the component. (CanOpener or Mini size)
---
Power
- You can place BlackDiscus on any power input (IEC plug) as well as on the wall outlet(s) and distribution boards. Note that BlackDiscus does not always work well on power systems. But when it does, it's stunning.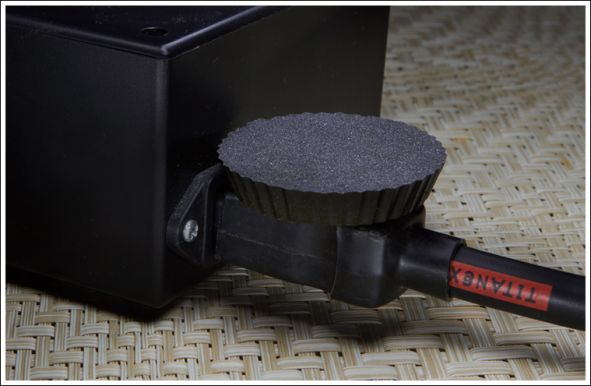 Cables
BlackDiscus Black Sticks are designed to fit on cables - signal interconnects, power cables, speaker cables, even digital cables (but not optical). They give the same sort of improvement as regular BlackDiscus - but more. Firstly more in the sense of being more powerful. But also "more" in the sense of more detail, more dynamics, more music.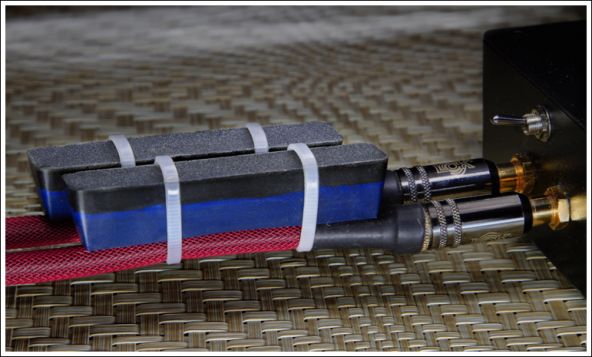 Black Sticks can be attached with cable ties (supplied) or with Blue Tak
Testing Your BlackDiscus
We strongly encourage you to test the BlackDiscus. However please observe the following point, or you may get invalid results.
Because of the way BlackDiscus work, they can have an effect even if they are not attached to your system. The effect is weaker, of course, but to ensure a proper test, please put the BlackDiscus inside a metal tin (or can, fridge, safe, - something metallic. Tinfoil even..) when you want to listen to your system without the BlackDiscus' influence, otherwise you will not hear the full difference. If you do not have anything metal to hand, try putting them in the next room.
Normally we find it easiest to hear the effects on complex music, especially with vocals. And if a track currently sounds a bit harsh, that is an ideal track to try.
We are very keen to hear what you think of BlackDiscus, so please email me your comments to info<at>madscientist-audio<dot>com
How do they work?
Due to commercial considerations we are not able to explain how BlackDiscus devices work. However we can say that BlackDiscus performance is achieved by combining a number of novel techniques.
But here are a few possible explanations for now:
The Doctor Explanation : BlackDiscus use a simplified form of the technology employed by the time lords which we call "Relative Dimension in Space" RDIS, which means that they are considerably bigger inside than out. Not only bigger, but heavier as well, as they are filled with lead. This means that they make excellent mass-dampers, even though they only weigh a few grams. Also note that the lead has been pushed back in time/to another dimension, so this means that BlackDiscus are fully RoHS compliant.


The Inevitable Quantum Explanation : Your brain is like, a quantum computer. And BlackDiscus is like extra RAM (quRAM) for these quantum computers. Using non-linear optics, the BlackDiscus produce a stream of entangled photons that vibrate in time to the music. Because of this, your brain perceives the sound as much improved.


The StarFleet Explanation : The positronic audio coupling excites the trans-warp particle matrix so that a phased system stream combines to give a rapid superficial harmonic, which gives the effect of good musical vibes.


The Electromagnetic Damping Explanation : CanOpeners capture unwanted resonances in the electromagnetic fields that pervade us all in modern life, and turn them to heat. This reduces the noise floor and brings out subtle details.


The Alien Technology Explanation : While I was walking my dog one night, I came across a UFO that had broken down. I helped the aliens "change their space tire" and before they left, they asked what they could do...I said that if they knew any cool ways to make my sound better..and the result is BlackDiscus


The Nanotechnology Explanation : They work because they contain a huge number of autonomous "nanites". These disperse and change the characteristics of the air between the speakers and your ear. When not in use they return to the BlackDiscus .

The Dark Matter Explanation : The "black stuff" on BlackDiscus contains Dark Matter, the elusive substance that astronomers and cosmologists have been searching for. Well we located a stash in an old farmhouse near Ruitakia in New Zealand, and the magical properties of Dark matter mean that the soundstage is widened and details are more prominent.


The Black Magic Explanation : Due to contractual obligations, I cannot reveal the full details. Suffice to say that I found a gentleman who was willing to purchase what he termed "my soul" in return for various goodies, one of which is this astonishing technology. So take advantage of my foolishness - you can improve your stereo for a much smaller price than your soul.
Suggest a plausible or funny explanation and win a set of BlackDiscus Devices.